Netflix ist die erste größere Streaming-Plattform, die 2014 in Deutschland gestartet ist. Seit der Veröffentlichung von House of Cards im Jahr 2013 bietet sie nun Hunderten von Filmen und Serien wie Stranger Things, Sex Education, The Haunting of Hill House, La Casa de Papel oder Love, Death & Robots ein Zuhause. Jeden Monat empfiehlt BetaSeries neue Serien und Staffeln, die veröffentlicht werden, und zwar in allen Genres: Science Fiction, Drama, Thriller, Fantasy oder Horror. Netflix ist unter anderem die Heimat für renommierte Filmemacher wie David Fincher, Ryan Murphy oder Shonda Rhimes.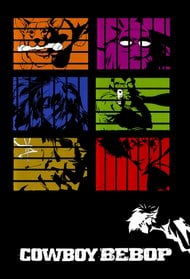 Cowboy Bebop
Działanie, Przygoda, Anime, Science-Fiction, Zachodnia
Platforma: Netflix
-
27 Odcinki
Status: Zakończono
Akcja serii dzieje się w odległej przyszłości. Podróże międzyplanetarne są na porządku dziennym. Bezdroża kosmosu zaczynają przypominać stary Dziki Zachód....