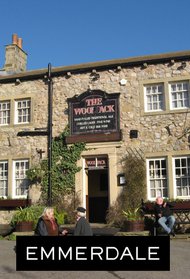 Serie toegevoegd aan uw lijst
Emmerdale
Zeep
Platform : Amazon Prime Video
-
9767 Afleveringen
Status : Lopend
The lives of several families in the Yorkshire Dales revolve around a farm and the nearby village. With murders, affairs, lies, deceit, laughter and tears, it's...
Serie toegevoegd aan uw lijst
Dark Shadows
Drama, Horror, Zeep
Platform : Prime Video
-
1225 Afleveringen
Status : Voltooid
Dark Shadows was a daytime soap opera on ABC-TV which aired weekdays during the afternoon. With vampires, witches, warlocks, werewolves, and other supernatural creatures,...